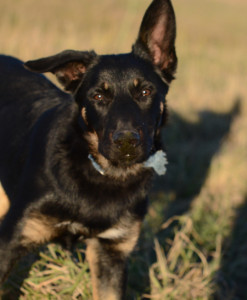 BURRADOO NUGGET
The Working Kelpie Council of Australia
61676 BOO9I (V-64)
Black and Tan Male (Tattoo – BOO9I)
Born: April 13, 2015
Burradoo (US) Nugget is by Burkelodge Becker (A4M – 1328503 BLG) out of Kramer (US) Bugga (A3F – 2229712).  This breeding brought together the strongest sides of our Kelpie stud and Nugget has proven the cross to be an outstanding success.
Nugget is a dog with personality plus and has an extremely natural desire to work with little to no commands.  He reads his stock easily and adjusts as needed.  Nugget's father, Becker, came to us from Tom Gilcrist as a trained dog and had that inherent ability to figure out any situation without guidance.  Becker would remember where he left animals that morning or the day before and literally could be sent from our kennels to whatever pasture to bring sheep or cattle into the yards with only the command to get back.  Nugget shows the same traits.  We have often stated that you only get great dogs once or twice in a lifetime and Becker would certainly fit that description.
Bugga's father, Karana Digby, is a littermate to Karana Abba II, who has won numerous National Championships and trials throughout Australia. Digby came to the Burradoo Ranch as a five-year old dog. He fit in immediately, with our only challenge being able to work him from horseback, which he mastered very quickly.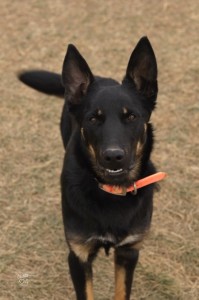 Nugget is still in training and growing up mode, but will be used as a stud dog in the not too distant future. He has personality plus and adapts well to each stock working situation.