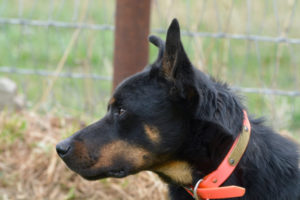 "Deuce"
Kramer (US) Bruce
A3M-23597-13- (A24)
Black and Tan Male
Born March 10, 2013
Deuce is out of Karana Oz (A3F-13867-05KH31) sired by Karana Digby (48307 JH1J) on their second litter.  Deuce came to us from the Kramers of California after they determined that, due to some of their personal issues and inability to devote training time for the pup, he needed a new home.  We gladly took Bruce, now Deuce, onto the Burradoo, as our stud dog, Karana Digby, was his father and his full sister from a previous litter, Bug, was fast becoming a member of our ranch work force.  Deuce, similar to many dogs out of the Australian Karana Stud of Kevin and Kay Howell, was an easy starter and exhibited many of the traits we loved about his sister and sire.
Deuce is a tall, rangy dog that has unlimited endurance and has really come into his own when working stock.  He exhibits many of the easy to handle traits of his sister and has the ability to put a lot of country behind him when working.
We bred Deuce to our Redwheel Waltzn Matilda and their first litter was born in November of 2016.  Interestingly, all seven pups were females and appear to be fairly large dogs that should compliment any working property.
For those not familiar with the Karana Stud, it should be noted that there are five Karana dogs in Deuce's pedigree that have won the National Working Kelpie Championships in Australia.  Deuce's father, Digby, is a littermate to Karana Abba II, who has won two National Working Kelpie Championships, in addition to numerous other trials throughout Australia.  The Karana bloodline is most noted for its outstanding trialing record, but we have also observed these dogs skillfully handling stock in agricultural settings ranging from the rough country near Eugowra to the sale yards at Forbes, New South Wales.