As all livestock producers know, there are those days when we carry a heavy heart as we lose a trusted canine worker and friend.  Earlier in 2017 Burkelodge Becker passed on to the great maker in the sky.
The hardest part of owning dogs that are important in your life is their potential life span is so short compared to that of a human.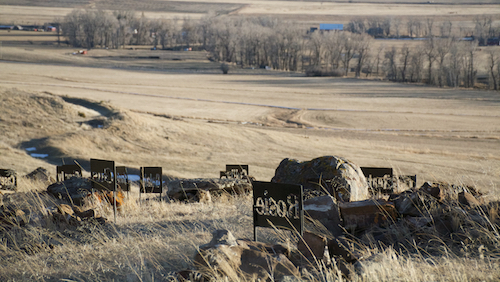 "The reason why dogs don't live as long according to a 6 year old… People are born so that they can learn how to live a good life. Like, loving everybody all the time, and being nice. Well dogs already know how to do that so they don't have to stay as long."
This sentiment seems to have merit, but it certainly does not ease the pain and sense of loss when one of our true companions, a loyal dog that has spent countless days working stock with us, heads to heaven. On the Burradoo Ranch, we have a high hill overlooking the ranch buildings, with a fabulous view of the Beartooth Mountain Wilderness Area, that serves as the final resting spot for our many beloved canine friends. Up on the hill we mark each grave with a metal marker with the name of the dog. At the moment, there are close to twenty markers, each with a special story and a multitude of memories.
The wild flowers grow up amongst the rocks that mark the graves and, every now and then, we take a hike up to the spot so we can sit down and talk to each and every one of those four-legged legends that have had a huge impact on our lives. The hardest parts of these visits is that you realize you own immortality, as each dog represents a decade or more of your life that can only be remembered through photographs, campfire stories and the progeny they have left behind for us to enjoy.
Our additions to "Boot Hill" include Burkelodge Coke and Riana Flair, two of our original females from Australia that helped shape our love for the Australian Kelpie.
Wranglar Lilly and Riana Battle two of our foundation dogs, were both laid to rest in May 2016 and Dos-Tex Ringer in February of 2017.
The "Dog Gone Dogs" also remind us of the many people they brought into our lives that have shaped the directions we head and the many adventures they initiated for us across several continents. We will update this section, hopefully slowly, with other working dogs that make the journey up the hill as times goes by.