DOSS-TEX RINGER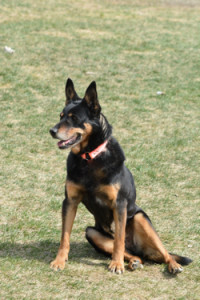 North American Australian Kelpie Registry, Inc.
K02538
BLACK AND TAN FEMALE
BORN MAY 25, 2003
Bred by: Jim Faught, Doss, Texas, U.S.A.
May 25, 2003 – February 15, 2017
As all livestock producers know, there are those days when we carry a heavy heart as we lose a trusted canine worker and friend.  February 15, 2017 was one of those days, with our Dos-Tex Ringer passing on to the great maker in the sky.
Ringer was purchased from Jim Faught of Doss, Texas as a 6-week old pup. Jim Faught is well known in American Australian kelpie circles and was one of the first Americans to import some excellent kelpies from Australia to enhance his and other breeding programs in the United States. Ringer was an athletic dog that weighed approximately 50lbs and had a classic kelpie look, build and temperament. Ringer's full brother sold for the then record price of $5,300.00 at the Red Bluff Bull, Gelding and Stock Dog sale in Red Bluff, California. Ringer produced one litter of pups with Riana Battle. As with our other kelpies, Ringer was used in a ranch environment, usually with one other dog, and had the staying power to cover great distances under rugged conditions.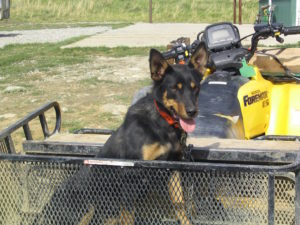 Ringer taught all of us on the Burradoo a tremendous amount in regards to stock work and the devotion a dog can have to her owners. We have made many mistakes over the years, but Ringer helped us through the problems and had a tail wag to the very last moment. She will truly be missed.