RIANA FLAIR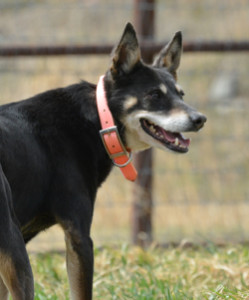 The Working Kelpie Council of Australia Inc.
45424 – AJH5H (V-48)
BLUE AND TAN FEMALE
BORN JANUARY 26, 2004
Bred by: Arthur Hazlett, Barraba, New South Wales, Australia
January 26, 2004 – October 26, 2015
Flair was purchased from Arthur Hazlett as a 6-month old dog who had not been started. However, her pedigree was one that Arthur thought would fit well with Riana Battle, who we purchased at the same time. We bought Flair primarily for her excellent blood lines and extremely nice temperament. Flair is a smaller dog (35lbs), but has lots of stamina and handles the heat and mountain country very well. We have used her on a more limited basis on the ranch in order to protect these bloodlines, as the airlines have become dramatically more expensive when importing dogs from Australia. We primarily bred Flair to Battle.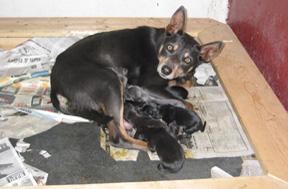 The litters have produced red and tan, black and tan, and blue and tan pups, all growing to a larger size than Flair and in some cases being larger in height and leg than Battle. Some of the male pups have been slow maturing, but once they hit their stride have shown good sense as ranch working dogs on both sheep and cattle. We continue to follow the progress on these pups, which are now found across the western provinces of Canada and throughout the U.S.A.
Riana Flair had a winning personality, worked well and was a wonderful mother to the pups she produced with Riana Battle. Flair lived a long, active life and left us with wonderful memories.
---