WRANGLAR LILLY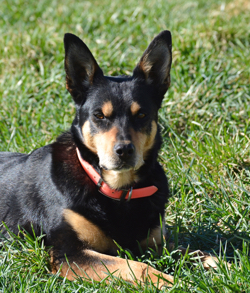 The Working Kelpie Council of Australia Inc.
50552 – IAG31 (V-53)
BLACK AND TAN FEMALE
BORN JUNE 8, 2005
Bred by: Ian Gilcrist, Casterton, Victoria, Australia
June 8, 2005 – May 11, 2016
It was a sad day May 11, 2016 on the Burradoo Ranch when one of our foundation Australian Kelpies, Wranglar Lilly, was laid to rest up on the hill where she, and others who have gone before her, will face the Beartooth Mountains for eternity.  Lilly came from Ian Gilcrist of Casterton, Victoria, Australia as a started dog and won our hearts the first time we met her on Kaladbro Station.
When Ian later visited the United States, we took him to the ranch of a friend who was having great difficulty bringing in a large flock of sheep.  Ian took Lilly and easily moved the entire flock to the desired location.  The ranch owner commented that he would like to own a dog like Lilly.  Ian replied in his quiet, Australian accent, "Mate, everyone would like to own a dog like that."
Lilly spent many days working cattle in the Beartooth Mountains and moving sheep here on the Burradoo Ranch.  She was always ready to go to whatever next job we had in mind and we have fantastic memories of sitting on many a sunny mountainside at lunchtime with Lilly curled up next to us, hoping for a little treat.  Lilly provided us with pups that are now excelling in their own right, both here on our ranch and on properties in the United States and Canada.  Janice loved to use Lilly as her "go to" dog, regardless of the type or age of the stock. Lilly will truly be missed, but we are thankful for the wonderful memories Ian allowed us to have by letting Lilly come to America.
We imported Lilly in February 2008 and were lucky enough to breed her in Australia just days prior to our return to the United States. Lilly comes from the same station as Burkelodge Becker and Burkelodge Coke. We import only adult working dogs with pedigrees that match our needs on our ranch in Montana. In addition, each of the dogs we import has to pass the truth test of working cattle and sheep in large numbers under "real" Australian station situations before we take them to the airport in Sydney. Lilly passed these requirements with flying colors. Lilly was Ian Gilcrist's personal dog until we convinced him that Lilly should make the trip to America so her superior calm personality and working ability could be infused into our breeding and herding program in Montana.
Lilly is a true sweetheart that exhibits real cattle sense and can stylishly work the sheep yards with the best of them. Lilly will back sheep with gusto and push them through the races with plenty of strength, then go to the paddock and bring in a mob of cattle with just a few whistles to help her along. We have worked her in the mountains on some dog-hating cattle, which she handled with her usual quick thinking and stock savvy.
Lilly's first litter of eight pups, sired by Barcoola Blue, were born in April 2008 and have been sent to working ranches and farms in Alberta, Saskatchewan, Montana and Wisconsin. One of those pups was sold to an agility home and went on to become Canadian National Champion and a World Team member in 2012.
Lilly's next litter of six pups, sired by Burradoo Muster, were born in October 2010 and sent to New Mexico, Colorado, Montana and Alberta. We kept a male pup from this litter, Burradoo Drover. We have received very positive reports on all of these pups, with several owners of dogs from Lilly's litters returning to purchase other pups.
---