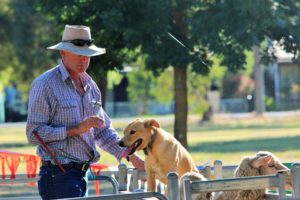 Motleys Snow
The Working Kelpie Council of Australia Inc.
59322
Cream Male (Tattoo – DMM1F)

Born November 21, 2011
Motleys Snow is out of Motleys Candy (A3F-13867-05KH31) sired by Motleys Russell (48307 JH1J).  Snow came to us from David Motley of Gerar Station near Nyngan, New South Wales.  We have had the privilege of watching Snow compete at several National Kelpie Field Trial Championships and work on numerous occasions on Gerar Station.  David's breeding program has incorporated dogs from John and Gary White's stud located down the road and has produced dogs that have proven themselves not only on the trial grounds, but also on the station where David is in charge of over 17,000 sheep and a nice mob of Shorthorn cattle.  Snow has been used almost daily for his lifetime to muster large paddocks and then was expected to work in the yards on everything from lamb marking to shearing jobs.
As we go to Australia every year for 6 weeks or more, we have had the advantage of observing dogs from many of the top kelpie studs.  We have tried to select the dogs we import to Montana based on this first hand experience. In the video below, taken while in Australia, David Motley is demonstrating Snow backing on sheep in a raceway.

Since arriving in America, Snow has fit in very nicely with our other dogs and exhibits the wonderful kelpie trait of adaptability to his new home and environment.
On the Burradoo we work primarily cattle, but we also bring on a flock of about 1000 sheep every summer as part of a lease arrangement.  This allows all our dogs to experience a variety of stock handling on our ranch, which is located in the foothills of the Beartooth Mountains.
Snow is a strongly built dog that has seemingly unlimited endurance and a real knack for working stock, thanks to his years of experience in Australia.  He has transitioned nicely to our handling and has an insatiable desire to please.
Snow's sire, Motleys Russell, has been a very positive influence in kelpie circles.   The offspring of both Russell and Snow are proving themselves on properties around Australia and on the trial circuit.  We will be breeding Snow with some of our females and a limited group of outside females.  If you have questions regarding Snow, please feel free to contact us.