Testimonials
---
"I took Pistol & Hank with me on all the fall moves & corral work. Pistol is becoming quite a nice working dog…she has lots of bite and works on her own so natural. I just let her do her thing; as soon as she knows where we are headed….the cows are coming. Hank & Pistol really work well together".
-Craig and Camille Reesor
12/22/2009
Irvine, Alberta
Burradoo Pistol
(Barcoola Blue and Wranglar Lilly, red and tan female, born April 2008)
Burradoo Kelley
(Riana Battle and Riana Flair, blue and tan female, born July 2007)
---
"We have owned 7 border collies and kelpies that we purchased from Bill and Janice Mytton, and have used them in every aspect of our ranching operation that covers corral work, rolling foothill country all the way to our National Forest permit in the Beartooth Mountains. These dogs are worked primarily from horseback, but are expected to work from 4-wheelers or in the corrals and alleys pushing cattle into the squeeze chute. In addition, they are all considered family and travel literally everywhere we go, with local town's people asking what is wrong when they see us in a truck without the dogs".
Sherri goes on to state, "during the 2006 Derby fire which consumed our entire Spring Creek Ranch we had to use these dogs in an emergency evacuation to get our cattle to safe irrigated pastures miles from the mountain country they were in.
If it hadn't been for the tireless energy of our dogs and those of the neighbors we probably would have lost large numbers of livestock. We owe a deep debt of gratitude to these faithful friends".
-Sherri Arnold
12/22/2009
Absarokee, Montana
Burradoo Sundowner
(red and tan, female, Riana Battle x Doss-Tex Ringer)
---
"I took Shawn to a small trial a couple weeks ago.  There were only two of us in the Novice class but he received his first blue ribbon.  I then got really brave and competed in a Texas Sheepdog Assn trial last weekend in an air conditioned arena.  I thought it would be a good experience for him to travel and see new places and realize that he has to work just like he does at home wherever he goes.   We had to load the sheep into a trailer at the end and Shawn had never seen a trailer before but I did prepare him by practicing penning sheep at home.  He did real nice and had no trouble putting them in.  He came in second place.  I'm very happy with his performance.  I'm pretty sure he had fun because he didn't want to leave the arena." 
-Marjie Baehmann
07/01/2009
Palo Duro Canyon, Texas
Owner of Shawn (Riana Battle x Riana Flair)
---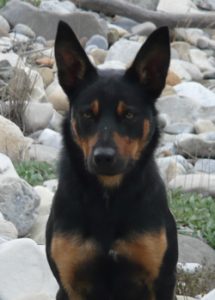 Coolhand Luc has been one of the most amazing dogs I have had the honor of training. He is naturally intuitive to what I am asking him to do. He gives 110% every time we go out to the start line together.
When we are off the training he is an easy dog to live with, I can go anywhere with him, hotels, airports, meeting new people and children and he takes it all in stride. He is the most solid grounded temperament dog I have owned.
Luc has been bred once which produced a litter of 10 pups. They have went to either stock homes or agility homes and all are doing very well
Luc's accomplishments are :
Agility Association of Canada National Champion 2011,
World Team Member 2012, Belgium, 7th in the Biathlon Event,
Alberta Regional Champion 2012, 4th 2014, and 3rd 2015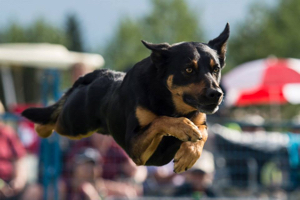 Lynda Caughlin
July, 2015
Olds, AB Canada
Luc (Barcoola Blue x Wranglar Lilly, born April 2008)
---
Bill, Janice and I have talked long about the kelpies and I have visited Burradoo Ranch on a few occasions.  I made my first purchase of a Burradoo dog in 2012 and have not regretted the choice.  BJ is a regular work dog on our place, helping with gathering but particularly with forcing large groups of ewes and lambs when it's time for sorting or vaccinations.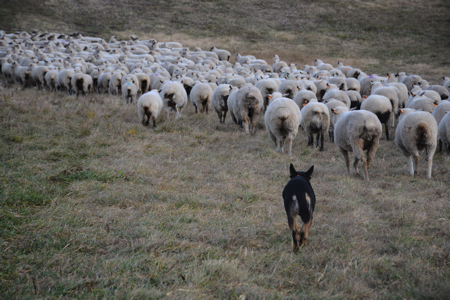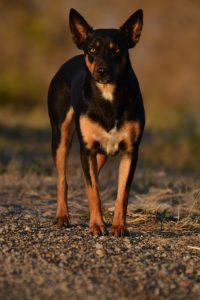 When I seek advice about the dogs, I feel at ease talking to Bill and Janice and can trust I'm getting an honest answer.  Their breadth of experience and the people connections they have kept up with, in both the Australian and USA Kelpies circles, astounds me.  They have seen many great Australian Kelpie dogs that I have only read about, and are friends or acquaintances with several of today's top handlers and breeders there.  When I'm curious about a particular line of kelpies, Bill is the first person I call.
Bill and Janice Mytton and the Burradoo Kelpies have certainly enriched the North American Kelpie scene.
Arlette Seib
Dog Tale Ranch
Saskatchewan, Canada
BJ (Burkelodge Becker x Burkelodge Coke)